You know about Northern Iowa and Wichita State, but who are some other mid-majors to keep an eye on heading into the 2015 NCAA tournament?
Any of these five could make noise in the field of 68:
Louisiana Tech: Veteran perimeter? Check. Legitimate rim protector? Check. Up-and-coming coach? Absolutely. Mike White's squad has all the requisites a capable mid-major brings to March and was very competitive in games vs. Temple, Syracuse and NC State. Louisiana Tech's backcourt of Kenneth "Speedy" Smith, Raheem Appleby and Alex Hamilton can generate offense against most opponents, while 6-foot-9 senior Michale Kyser adds shot blocking (2.8 per game). White bypassed the chance to coach at several power five programs last year for the chance to coach the Bulldogs deep into March and has a real chance to do so.
Iona: Tim Cluess has won 20 games or more in each of his first five seasons with the Gaels, but none in the NCAA tournament. That could change if Iona gets in because this is an explosive offense with three players — A.J. English, Isaiah Williams and David Laury — good enough to start for Power Five league schools. Cluess has made Iona the mid-major version of Iowa State, thanks to impeccable spacing, conditioning and skill level. If Iona wins the MAAC tournament to reach its third NCAA under Cluess' watch, it will be a 12 or 13 seed that gives opposing assistant coaches nightmares because the Gaels average 80 points and have eclipsed 90 twice this season.
Murray State: Never heard of Cam Payne? You will. The Racers' 6-2 floor general is one of the sport's best-kept secrets. The perimeter trio of Payne, Clemson transfer T.J. Sapp and Jeffery Moss is the primary reason Murray State (26-4) hasn't lost since Nov. 29, with the OVC tournament up next. Steve Prohm has a star in Payne, terrific chemistry and two bruisers up front in Jarvis Williams and Jonathan Fairell who would get Charles Oakley's approval. Whoever draws the Racers in the round of 64 is in for a fight.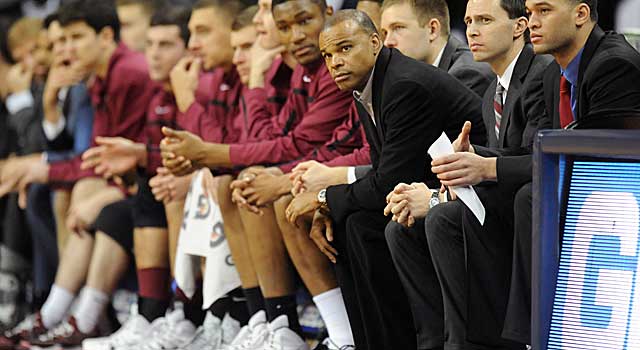 Harvard: Tommy Amaker has quietly done one of his best coaching jobs. The Crimson still need to beat Yale on Friday for the Ivy League's NCAA berth. But if Harvard gets in, it will be a nuisance. The Crimson are allowing only 56.3 points in Ivy League play and have enough weapons to be competitive in the round of 64. Wesley Saunders and Siyani Chambers have NCAA experience on the perimeter, while big man Steve Moundou-Missi is a strong rebounder. The real key is Corbin Miller. The 6-2 guard doesn't shoot as well as Laurent Rivard the past few seasons, but still has opened up the floor with timely buckets. If Miller (38.8 percent from 3-point range) makes shots, Harvard can make noise if it gets in.
Stephen F. Austin: Brad Underwood's squad needs to get past troublesome Sam Houston State in the Southland tournament, but figures to be a difficult first-round opponent if it makes the NCAA tourney. The Lumberjacks have 10 players averaging double-figure minutes. Moreover, Stephen F. Austin expects to win. The Lumberjacks are 56-7 the past two years and beat VCU in the Round of 64 last year. If freshman guard Ty Charles continues to evolve as a bona fide third option alongside Thomas Walkup and Jacob Parker, the Lumberjacks would have another scoring threat for the most important part of the season.